#{title}#{text}
#{title}#{text}
#{title}#{text}
#{title}#{text}
#{title}#{text}
0
added to delivery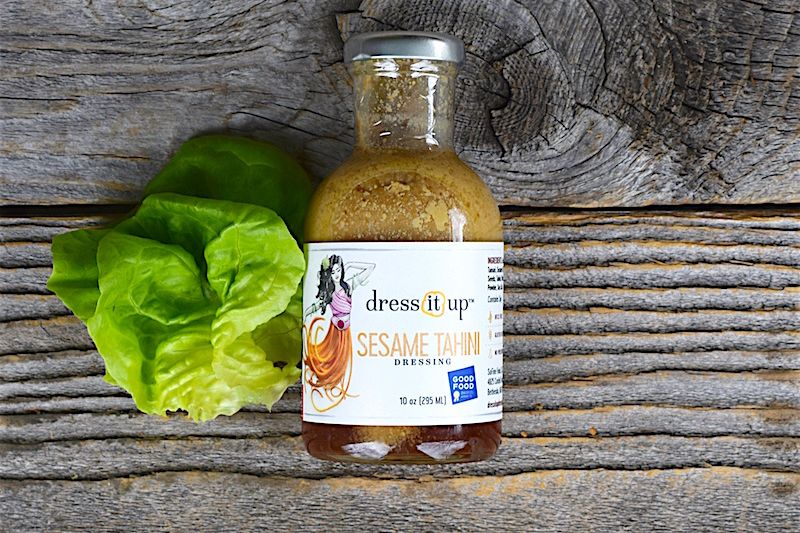 Sesame Tahini Dressing, Bottle
$6.99
10 fl oz
Winner of a 2018 Good Food Award and a 2018 SOFI Award. A bold and addictive, this dressing is the secret sauce to making every weeknight meal special. All the tangy sesame flavor you want with the extra kick of tahini you never knew you needed. Gluten-free. Low sugar. Vegan. Made in Maryland. Woman-owned. Meet the makers.


ABOUT: Born from a mother's recipe, a brother's challenge, and a daughter's passion, Dress It Up Dressing effortlessly brings the quality of homemade and the convenience of store-bought to your kitchen. Crafted in small batches in Bethesda, Maryland.

HOW TO USE: Style it atop grain bowls, chicken or fish marinade. Drizzle over pan roasting vegetables, and literally, on everything. You can't go wrong!

INGREDIENTS: Rice Vinegar, Olive Oil, Sesame Seeds, Tamari, Lemon Juice, Sesame Oil, Sugar, Water, Garlic, Spice, Sea Salt.
Dress It Up Dressing - Bethesda, MD
Customers also added these items