#{title}#{text}
#{title}#{text}
#{title}#{text}
#{title}#{text}
#{title}#{text}
0
added to delivery
Out of stock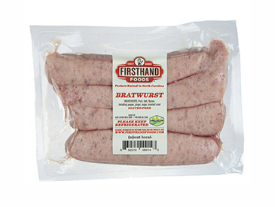 Pork Bratwurst, 1lb - Firsthand Foods
Out of stock
Made with pasture-raised pork sourced from small farmers, this sausage makes a quick and delicious meal served on a crusty roll with mustard and sauerkraut. Firsthand Foods' hog farmers raise their animals humanely outdoors on pasture without growth-promoting antibiotics, using non-GMO feed, and are Animal Welfare Approved.
Approximately 4 ounces each, packed in groups of four. Delivered frozen to ensure freshness.
First Hand Foods - Durham, NC
Frozen to preserve freshness. Thaw in the refrigerator or microwave when ready to cook.
Customers also added these items