#{title}#{text}
#{title}#{text}
#{title}#{text}
#{title}#{text}
#{title}#{text}
0
added to delivery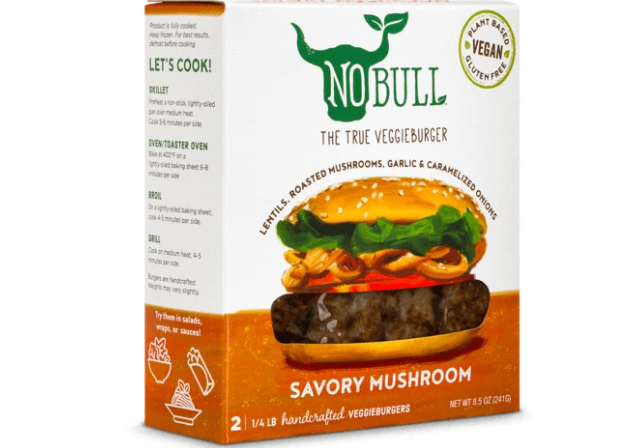 NoBull Burger - Savory Mushroom
$5.99
8 ounces
Made of organic lentils and grains and a ton of roasted veggies- that's it! Clean and natural plant-based protein flavored with white and shitake mushrooms, organic spinach, and garlic. 10g protein per serving. Vegan. Gluten-free. Woman-owned. Virginia made. Meet the makers.
ABOUT: Talk about super savory and hearty! Savory Mushroom plant-based burger is loaded with organic lentils and organic brown rice as the base and then packed with a ton of shredded mushrooms, organic spinach and roasted garlic. Family-owned company that specializes in making handcrafted and 100% plant-based veggie burgers. NoBull Burger takes pride in using premium ingredients to make an exceptionally tasting, whole-food veggieburger. Made in Charlottesville, Virginia.

HOW TO USE: Each package contains (2) 4 oz frozen burger patties. Goes great with a sharp vegan cheese or Swiss, caramelized mushrooms and spicy mustard.

INGREDIENTS: Organic green lentils, organic brown rice, onions, organic spinach, organic quinoa, organic white mushrooms, shiitake mushrooms, garbanzo flour, potato starch, tapioca flour, sorghum flour, fava flour, organic chia seed, non-gmo wheat-free tamari, garlic.
NoBull Burgers
Ingredients: organic green lentils, organic brown rice, onions, organic spinach, organic quinoa, organic white mushrooms, shiitake mushrooms, garbanzo flour, potato starch, tapioca flour, sorghum flour, fava flour, organic chia seed, non-gmo wheat free tamari, garlic
Customers also added these items