#{title}#{text}
#{title}#{text}
#{title}#{text}
#{title}#{text}
#{title}#{text}
0
added to delivery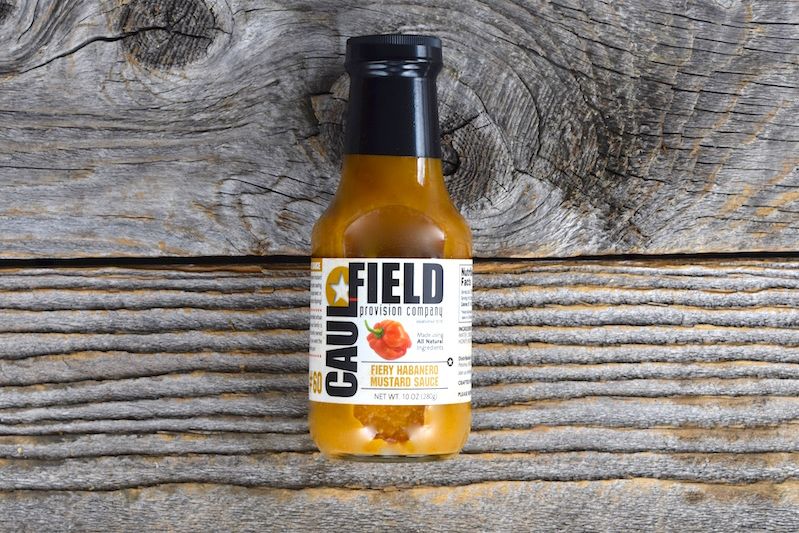 Fiery Habanero Hot Mustard Sauce
$7.49
10 fl oz
Golden in color and fiery in nature, Caulfield's premier mustard sauce will ignite your palate and bring your recipes soaring to new heights. Made in Maryland. Woman-owned. Meet the makers.
ABOUT: Unique aroma because unlike most sauces, every ingredient in the bottle hits the aroma senses at the exact same time. All at once, you can pick up the Habanero peppers as they bring that sweet, fruity, citrusy, pepper-forward aroma, then you have the Mustard Powder delivering that classic tangy and savory aroma, while the Honey brings out a nice sweetness. Towards the back of the sauce, you can pick up notes of the Garlic and a very slight hit of the zippiness of vinegar but its not overly strong in terms of the aroma.

HOW TO USE: Try in egg salad for a totally unique twist or go safe with hot dogs, burgers or sandwiches. Great for dipping pretzels and spring rolls. Try with seared tuna instead of wasabi. This is one of our top selling sauces!
Caulfield Provision Co. - Potomac, MD
Ingredients: Carrots, Garlic, Double Filtered Water, Onion, Distilled Vinegar, Habanero Chillies, Honey, Mustard Powder, Sea Salt, Natural Gum
Customers also added these items