#{title}#{text}
#{title}#{text}
#{title}#{text}
#{title}#{text}
#{title}#{text}
0
added to delivery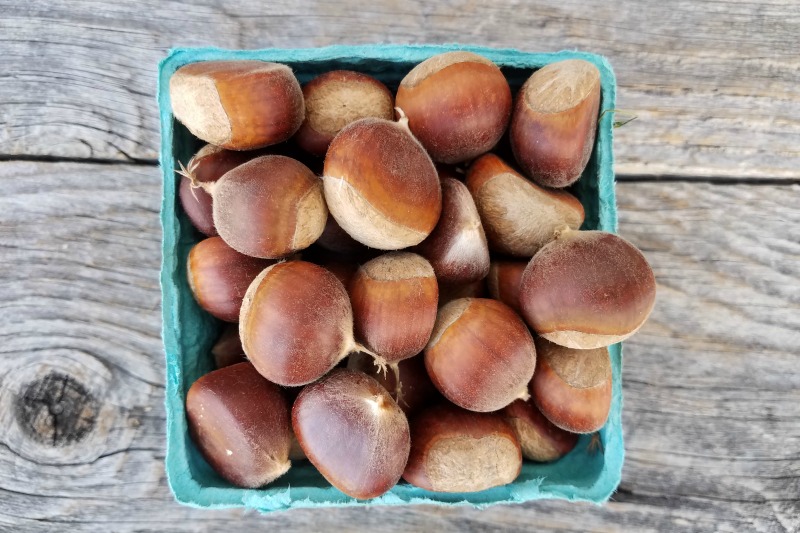 Chestnuts
$9.50
1/2 lb
Chestnuts roasting on an open fire! A favorite holiday treat and versatile nut, Chestnuts can be eaten raw, roasted, or dried and prepared as flour. Add crunch and a unique roasted flavor to your salads, bread, veggie stir fry dishes, and more.
ABOUT: High Rock Farm is the largest chestnut orchard in the Mid-Atlantic region. With over 500 bushels of chestnut trees, the farm produces about 26,000 pounds a year of chestnuts. Chestnuts are picked up by hand every day. Once in the barn, the nuts go through a cleaning and sorting process. After being sorted into various sizes, the chestnuts are stored in cold storage. Some of the nuts are dried and sold as kernels.

TO PREPARE: Score the nut with an x anywhere on the chestnut, to release the steam from roasting. Soak them in water for five minutes to make them easier to peel before roasting. oven roast for 20 minutes at 420 degrees.

TIP: Dried chestnut kernels can be rehydrated and used in meats, pork, and fish or vegetable side dishes.
Virginia Chestnuts
Customers also added these items