#{title}#{text}
#{title}#{text}
#{title}#{text}
#{title}#{text}
#{title}#{text}
0
added to delivery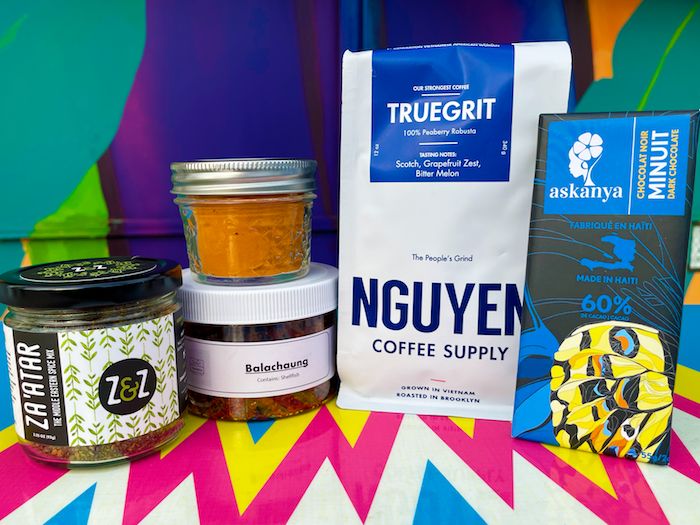 The Thamee Box Set
$52.00
All kinds of delish produced by Women of Color. Coffee, spices, and chocolate, this five item box set makes a great gift for you or a loved one. Click to view what's inside! Box curated by Thamee, DC's only Burmese restaurant. Woman-owned. BIPOC-owned. Meet the makers.
ABOUT: Box set contents and descriptions are detailed below!

Nguyen Coffee: First Generation Vietnamese American and woman-owned Nguyen Coffee Supply's strongest coffee, Grit is NCS strongest coffee, with nearly 2x caffeine content of arabica beans. A medium roast with a full-body experience since the robusta bean brings the boldest brew with 60% less sugar and 60% less fats than arabica. 100% Peaberry Robusta

Thamee Turmeric: Sourced by Thamee, turmeric is a crucial ingredient for anyone looking to cook Burmese and other Southeast and South Asian cuisine. Known for its bright yellow hue, turmeric has an earthy, peppery flavor that most associate with curries, but it also has many health benefits. Try it in your tea, or add to a sweet dessert!

Thamee Balachaung: Popular dry-spicy condiment used in Burma. Although it can be paired with many savory dishes, it is also sprinkled over sweet bread and salads. It gives everything an extra kick of spice and funk. Produced in DC at Thamee. Contains shellfish.

Z&Z Za'atar: Za'atar is one of the most popular and traditional spice blends in the Middle East, and is found at the heart of every pantry, table, and gathering. Z&Z za'atar is special. They went searching for the best za'atar and found it in the wild thyme growing in the mountains of Jenin, Palestine. This gives Z&Z's blend the authentic flavor of za'atar, with the richness of toasted sesame seeds, and tanginess of sumac. Produced in DC.
Thamee
Customers also added these items