#{title}#{text}
#{title}#{text}
#{title}#{text}
#{title}#{text}
#{title}#{text}
0
added to delivery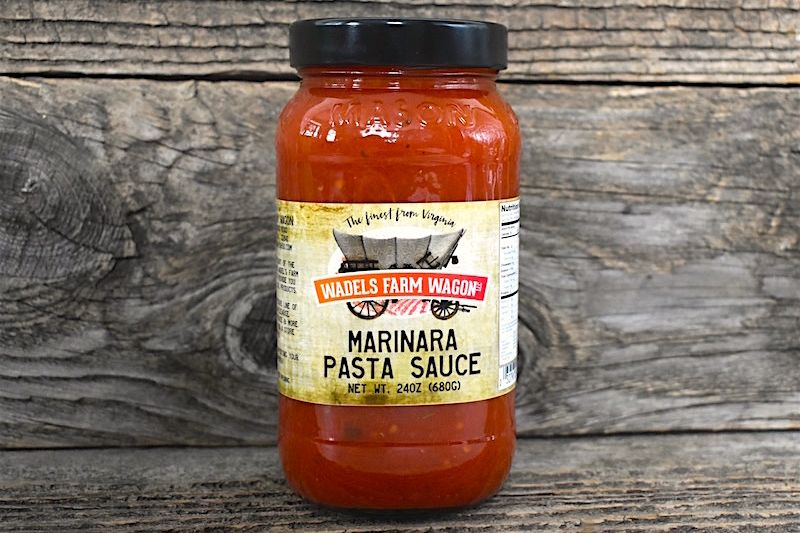 Marinara Pasta Sauce
$5.93
24 ounces
Bring a classic pasta sauce to your dinner table with fresh and Virginia grown ingredients. Tomatoes are simmered with onions, oregano, basil, and garlic for this robust sauce. Made in Virginia. Vegan. Gluten-free. Meet the makers.
ABOUT: Nestled in the heart of the Shenandoah Valley, Wadel's Farm Wagon strives to provide you with the best locally grown and produced products, from this jar of pasta sauce to pickles, condiments, and more. Freshly made with quality ingredients.
HOW TO USE: Heat on the stovetop or microwave. Delicious on
everything from pasta, pizza dough, seafood, or just add stock and cream for a delicious tomato soup.

INGREDIENTS: Crushed tomatoes, diced tomatoes, sugar, onions, sea salt, extra virgin olive oil, oregano, basil, citric acid, black pepper, garlic.
Wadel's Farm Wagon
Keep in the refrigerator after opening. Once opened, use within 5-7 days.
Ingredients:
Crushed Tomatoes, Diced Tomatoes, Sugar, Onions, Sea Salt, Extra Virgin Olive Oil, Oregano, Basil, Citric Acid, Black Pepper, Garlic.
Customers also added these items