#{title}#{text}
#{title}#{text}
#{title}#{text}
#{title}#{text}
#{title}#{text}
0
added to delivery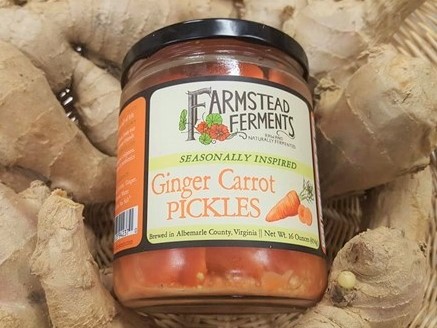 Ginger Carrot Pickles
$7.99
16 oz
Naturally fermented Gingerr Carrot Pickles are kind of a big dill. Delicious gut-healthy snack and paired on a cheeseboard, with pork, rice. Farmstead Ferments grows, harvests, processes, ferments, and preserves delicious probiotic-rich and raw veggies. Made in Virginia. Woman-owned. Meet the makers.
ABOUT: Farmstead Ferments makes r
aw, naturally-fermented foods made by hand in small batches. All products feature sustainably grown, fresh ingredients procured from Farmstead Ferments own farm garden or local Virginia farmers and are loaded with healthful electrolytes, enzymes, and probiotics.


HOW TO USE:
Enjoy with meats and fish, stuffed into cheese or pork sandwich,, on top of rice, yogurt and– most especially – eat them on top of a leafy green salad (skip the dressing)!
INGREDIENTS:
Carrots, ginger, filtered water, Celtic Sea Salt.
Farmstead Ferments
STORE:
In the refrigerator.
Customers also added these items