#{title}#{text}
#{title}#{text}
#{title}#{text}
#{title}#{text}
#{title}#{text}
0
added to delivery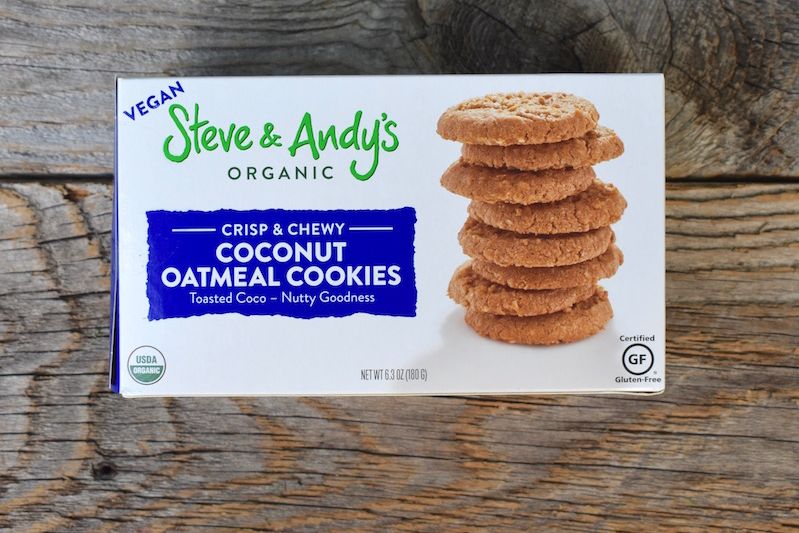 Coconut Oatmeal Cookies, Gluten-Free
$7.99
6.30 ounces
Vegan oatmeal coconut cookie that's a crunchy, caramelized bite of goodness. Gluten-free. No tree nuts. Vegan. USDA Organic. Kosher. GMO-free. Meet the maker.
ABOUT: Steve and Andy's believes in making the best cookies with the highest quality ingredients. They commit to using organic ingredients in our recipes to give you an amazing, organic cookie, unlike anything you've ever had before. Every day Steve and Andy relish the opportunity to create more clean foods for customers looking to live a more sustainable life.

HOW TO USE: Make this the star of any kid's school lunch— or any adult's desk lunch.

INGREDIENTS: Steve and Andy's All-Purpose Organic & Gluten-Free Flour Mix ( organic white rice, organic sorghum, organic brown rice, organic tapioca, organic potato starch, xanthan gum), organic coconut oil, organic and gluten-free oats, organic toasted coconut, organic evaporated cane sugar, organic brown sugar, organic invert syrup, purified water, pink Himalayan salt, organic molasses, organic vanilla extract, sunflower lecithin, baking soda, xanthan gum, organic ceylon cinnamon.
Steve and Andy's Organics
Customers also added these items