#{title}#{text}
#{title}#{text}
#{title}#{text}
#{title}#{text}
#{title}#{text}
0
added to delivery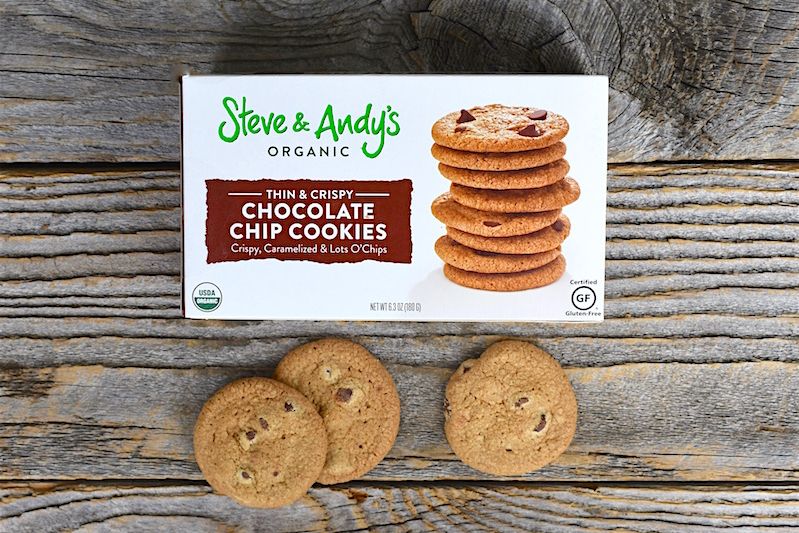 Chocolate Chip Cookies, Gluten-Free
$7.99
6.30 ounces
Crispy and crunchy, caramelized bite of chocolate chip goodness. Gluten-free. No tree nuts. USDA Organic. Kosher. GMO-free.
ABOUT:
Steve and Andy's believes in making the best cookies with the highest quality ingredients. They commit to using organic ingredients in our recipes to give you an amazing, organic cookie, unlike anything you've ever had before.
Every day Steve and Andy relish the opportunity to create more clean foods for customers looking to live a more sustainable life.
HOW TO USE: It's cookie love at first bite! Enjoy with a glass of milk.
INGREDIENTS:
Steve & Andy's all-purpose organic & gluten-free our mix (organic white rice, organic sorghum, organic brown rice, organic tapioca, organic potato starch, xanthan gum), organic semi-sweet chocolate (organic cane sugar, organic chocolate liquor, organic cocoa butter, soy lecithin (emulsier), organic vanilla extract), organic butter, organic evaporated cane sugar, organic brown sugar, organic eggs, puried water, organic molasses, baking soda, organic vanilla extract, sea salt.
Steve and Andy's Organics
Customers also added these items